The easiest way to search for ETFs that you can buy and sell options on is to screen for them using a stock screener like FinViz.com.

It's extremely easy to do so and only requires 3 simple steps.
1. Click on the 'All' tab
2. Set Average Volume to "Over 1M"
3. Set Option/Short to "Optionable"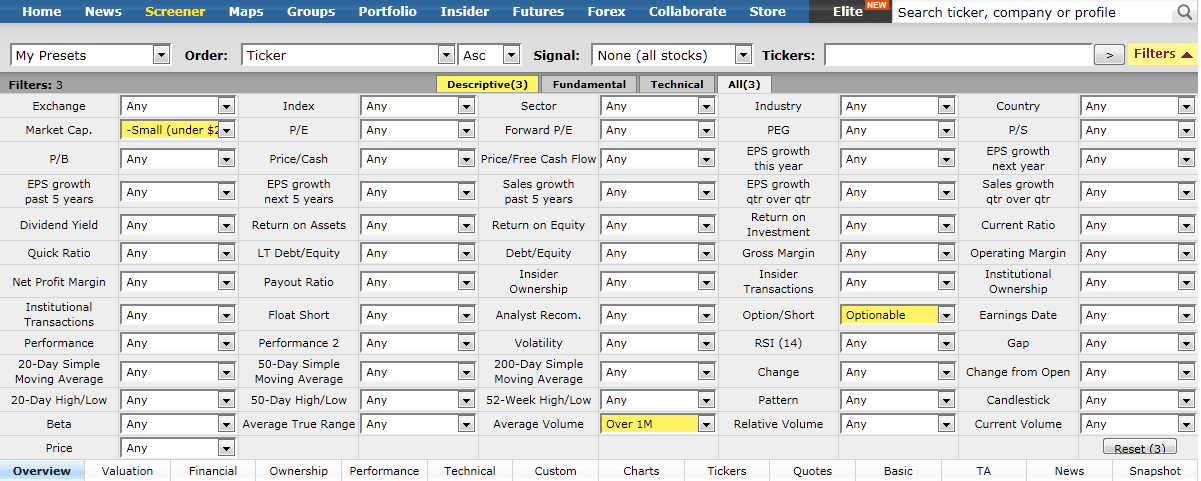 This first screen is a necessary part of the process when trading options on ETFs. That's because many ETFs are not optionable, meaning options are not available on the ETF. If the ETF is optionable it may still lack the volume necessary to make a sound and reasonable option investment.

Lack of volume is the main reason that I do not use individual stocks in my strategies. Most stocks do not offer liquid options. And the ones that do are subject to volatile moves due to unforeseen announcements, earnings surprises, etc. There is no need to take on this type of risk knowing that I can make consistent gains using ETF options.

Anyway, this screen will save you lots of time.

I suggest saving this screen for future reference so you can go back and check your list to see if your next ETF of choice is optionable.  You'll thank me later, as I will show you why this will be a true time saver.

The most important search criteria for finding what I call 'tradeable' options on ETFs - Volume. The reason I search for ETFs with an average volume over 1 million shares traded is because I want liquid options. Liquidity directly translates into a reasonable bid/ask spread for options - this is critical.

The more liquid the option the tighter the bid/ask spread. This is extremely important because the bid/ask spread impacts the cost of using options. Wide bid/ask spreads eat into the potential profitability of your investment, and contribute to what is known as 'slippage'.

A real world example of how volume effects the bid/ask spread should help to clarify.

Let's use Powershares Nasdaq 100 (NYSE:QQQ - News) and Market Vectors Agribusiness (NYSE:MOO - News) for our example. I chose these two ETFs because they both have share prices of roughly $50 a share. I want to choose two ETFs with equal properties, other than volume. The impact of volume will be blatantly obvious on the bid/ask spread.

If you look at the September 50 calls for both stocks you will see the following bid/ask spread:





Notice the difference?

The bid/ask spread is $.02 on QQQ compared to an enormous $0.40 on MOO.

This difference is the reason why a tight bid/ask spread is so critical when using options as part of your investment strategy. You can rarely buy an options contract at anything other than the ask price, and you can rarely sell one at anything other than the bid, especially if the options are illiquid. With a wide bid/ask spread you are technically underwater 10 to 30 percent or more, right from the get go. Nobody wants to be required to earn 10% - 30% just to breakeven.

Just think if you bought MOO and paid $2.10 for the option contract, you would have to make $0.40 or 19% just to break even. Of course, you could try to wiggle your way into the price by placing a bid at $2.30 in between the bid/ask price, but you would still have to make $0.20 or just over 8.5% to breakeven. This is why it is CRUCIAL to only use options that are liquid and have tight bid/ask spreads.

In conclusion, dealing with the bid/ask spread is an inevitable part of the options arena. Focus on more liquid and actively traded contracts that have smaller bid/ask spreads, rather than stocks with little to no volume and wide spreads. Once you put this lesson to work using options as part of our investment strategies you will save yourself many headaches and most importantly, hard-earned money.

Andrew Crowder
Editor and Chief Options Strategist
Options Advantage

Disclosure: None


More From SmallCapInvestor.com