Just How Old Is This Bull Market?
August 12, 2014 9:06 PM
Just How Old Is This Bull Market?
So just how old is this bull market when you put it up against some of the others?  As my pal Michael Batnick noted, it has been a very long time since we've had a 10% correction and this has a lot of traders worried we've gone too long without a much needed correction.
So what about that 10% correction?  By my math, we've now gone 34 months without a 10% correction on a closing basis.  We did hit the magical 10% correction land on an intraday basis back in June '12, but I'm just talking closes here.  
Since 1950, the current streak is getting up there, but we could go another 34 months and still not be at the all-time streak from the '90s.  
Another popular streak is the number of days the S&P 500 (SPX) has been above its 200-day moving average.  Turns out, the SPX has closed an amazing 435 straight days above this long-term trendline.  Again, getting up there, but it isn't unprecedented for this streak to last a little bit longer. 
Let's talk sentiment for a second.  One of the more amazing streaks in that world is how many weeks in a row we've seen bulls in the Investors Intelligence Poll come in above the 50% area.  Before this year we were all taught that being above the critical 50% was a huge warning of too much optimism.  Turns out you can rally in the face of a lot bulls and we have done that since February.  In fact, the current streak of 24 straight weeks sounds like a lot, till you see the amazing 45 straight weeks of bulls above 50% back in '03/'04.  
How about this one, the Russell 2000 (RUT) is up eight quarters in a row, the longest streak ever!
The SPX on the other hand is up six quarters in a row.  Sounds like a lot, till you realize out of the four other times this has happened, three of those times it went up at least another four quarters in a row.
What about the CBOE Volatility Index (VIX)?  Seriously, no market conversation is complete without talking about everyone's favorite fear/greed indicator.  Since 1990 the VIX has averaged exactly 20.  The funny thing is it usually doesn't trade around that area for very long.  It'll spend years well beneath that area, then years well above that area.  
Check out this chart.  For seven years in the '90s and four years last decade it traded beneath 20.  This current streak is just over two years old.  Once again, this streak is impressive, but it wouldn't be crazy for it to continue for a very long time.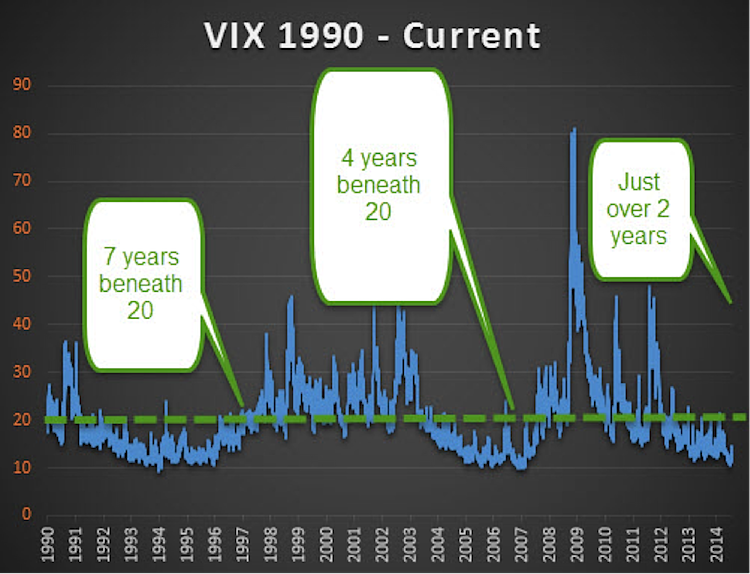 Lastly, what about the length of other bull markets?  I mean, that is the best way to gauge just how this bull stacks up, right?  
The current bull market is 65 months old.  It is now older than the '03/'07 bull market, but it isn't anywhere close to the amazing 153 month bulls we saw twice just since '75 or the 151 month bull that died in 1961.
What does all of this mean?  Hey, the bull market could die tomorrow for all I know, but I like to take a bigger look at things sometimes.  It might seem like this bull cycle has been going on forever, but it is very possible it could keep going a lot longer if you look at the length of other bull markets.  Be open to it is all I'm saying.  
Photo courtesy of Podolux.